New Student Online Application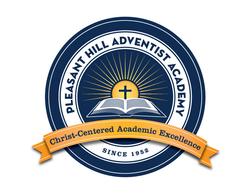 Pleasant Hill Adventist Academy
Building Relationships, Relevance, Respect and Responsibility
K – 12 Christ-Centered Academic Excellence
New Student Application Process
Thank you for considering Pleasant Hill Adventist Academy as your child's future school! We are so thankful for our wonderful students and engaging teachers and want to be sure you have an opportunity to apply to join our school family. Pleasant Hill Adventist Academy, PHAA, is a school that offers a quality, Christ-centered education with excellent preparation not only for college but for eternity. We promote service to others, Christian values, and participation and involvement in and out of the classroom.
At PHAA we have a two step process: Step 1-Application, Step 2-Enrollment. To APPLY: Follow the steps outlined to create an account and review your information. Know that you will receive an email indicating your application has been received and will be reviewed by the Admissions Committee. Plus, we often set up an interview with the principal prior to Admissions Committee. Once the Admissions Committee makes a decision, you can proceed to the second step: Enrollment: Log in to your RenWeb account and complete the Enrollment forms
Complete application by February 19 $75
Complete application AFTER Februrary 19 $110
New Student Application Process: Please follow these steps to complete your online application. Return to these instructions by pressing the Instructions & Resources tab should you need to refer to them.
Begin

by clicking on the Applicant Information tab and fill in all required information, continuing to press the Save & Next> button until you have completed all of the forms listed on the left of the screen.

Make sure

to type in your name when a Signature is required.

Next

, press Application Review to make sure all information is entered correctly. Remember that the way you enter information into these forms is how your child's name, your address and all of your information will be displayed on all school documents. Please enter it carefully

Finally

, press Complete Application Review and Submit Application if everything listed below is accurate and/or if you wish to print.
If you have additional children, press Create a New Student Application for each additional child.
If all forms are complete, you will see a next to the name of the form.
If a form has a next to it, this means that some required information is missing. You must go back and fill in the information before your Application is complete.
If you have the documents listed on the Document Uploads form, please submit them as these help us with successfully placing your child in to the appropriate class.
If you would like to view, print or save the Application, press View PDF.
We look forward to meeting you. If you have any questions, please feel free to contact us.
796 Grayson Road · Pleasant Hill, CA 94523 · Ph (925) 934-9261 · Fax (925) 934-5871 · office@myphaa.com